The Azzurri at the Chigi Palace. Prime Minister Draghi: "You've made us proud"
Gabriele Gravina thanks the Prime Minister: "Your Government actively contributed to the organisational success of a European Championship that went down in history before it was even played"
Monday, July 12, 2021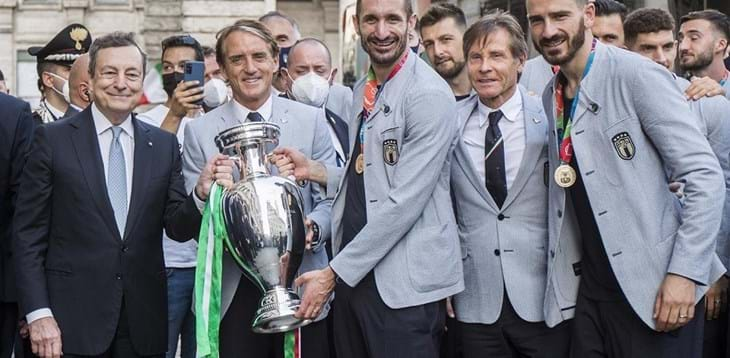 After meeting with Italy President Sergio Mattarella at the Quirinale, the Azzurri's afternoon continued with a journey to the Chigi Palace, where Mario Draghi greeted the Champions of Europe and Matteo Berrettini, the first Italian to reach a Wimbledon final. Together with the Azzurri, the Prime Minister lifted the trophy in the Piazza Colonna with Italy fans making their warmth felt nearby.
Gabriele Gravina had the following to say to Draghi: "Your Government actively contributed to the organisational success of a European Championship that went down in history before it was even played. After months of suffering and difficulties, Euro 2020 was a new starting point, with Rome and those in the city heavily involved. It was a tournament that highlighted the values of the Italian National Team." The FIGC President continued: "The Azzurri are a positive example for the country, they are a message of beauty that is positive for Italy. Football and the National Team contribute to making our country more credible, esteemed, inclusive and richer."
"Results like this fill us with pride," added CONI President Giovanni Malagò, who looked ahead to the upcoming Tokyo Olympics. "This gives us hope as our extraordinary delegation prepares to depart."
Prime Minister Draghi, meanwhile, spoke about the "extraordinary successes" achieved by the Azzurri and Berrettini. "You thrilled us, moved us, and made us rejoice and embrace. I've always been proud to be Italian. We're proud to see such unity in these celebrations in the name of Italy. The government would like to collectively thank you, as would all the Chigi Palace staff, who are looking out the windows and watching you from above. What you achieved is extraordinary." He then focused on two players in particular, namely Gigio Donnarumma and Leonardo Spinazzola: "History was made with those saves, and what saves they were! Among other things, I'm also thinking about the tears of Spinazzola. A big thanks to your families too."
In the meantime, a coach pulled up in front of the Chigi Palace with the words 'Campioni d'Europa' ('Champions of Europe') written on it. After meeting with Draghi, the Azzurri climbed on board: "We owed this to the fans," said Bonucci. "Their support has helped us reach this point." And so Mancini's men passed through the streets of Rome with jubilant fans celebrating with them.