Mattarella thanks the Champions of Europe: "You won by playing magnificent football"
The Azzurri were received at the Quirinale by the Head of State this afternoon. Gravina: "This National Team is a beautiful thing"
Monday, July 12, 2021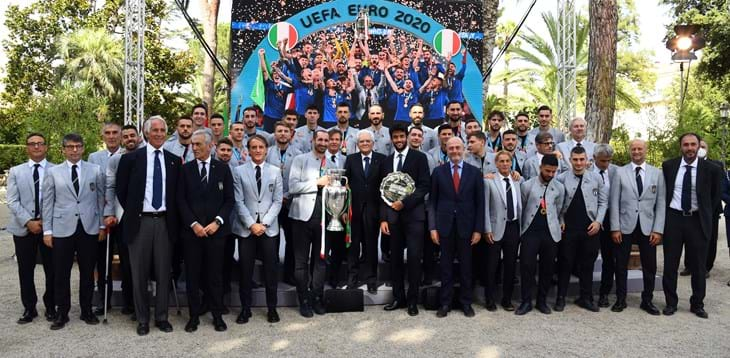 From a magical night at Wembley to an unforgettable afternoon on Italian soil. From the hotel that has been hosting the Azzurri in the last few hours to the Quirinale: Mancini's Italy were met with applause and enthusiasm from fans on their travels today.
"We still haven't registered what we've done," said an emotional Head Coach before stepping into the Quirinale, where the team met Italy President Sergio Mattarella. It was an informal occasion in the splendid gardens of the historic palace in Rome, with the Head of State thanking the Azzurri and Matteo Berrettini, the latter of whom achieved a historic first for an Italian by reaching the Wimbledon final.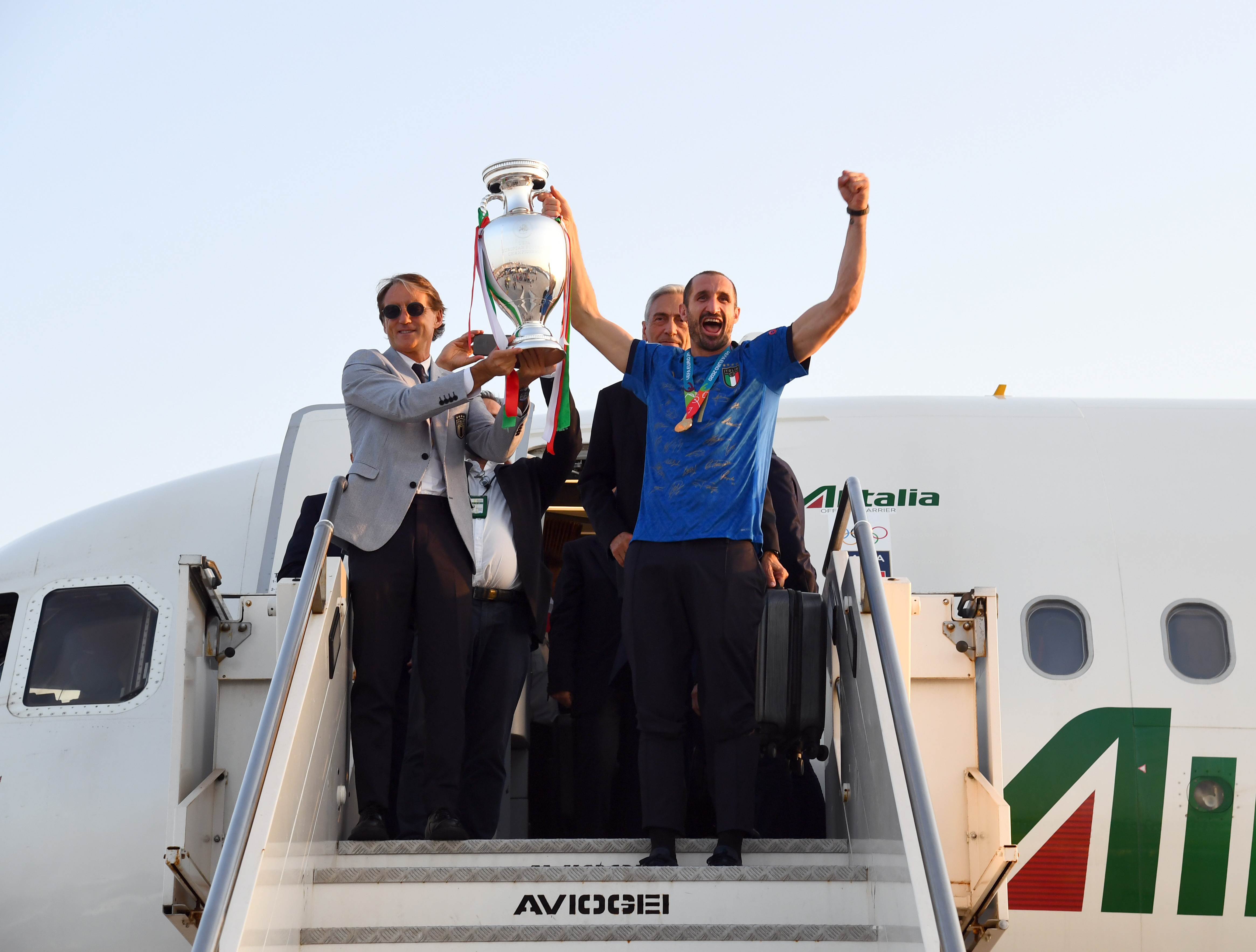 The Azzurri and Berrettini were welcomed with videos showing the most important moments of their respective adventures, while a military band played the national anthem, which was sung by all – including Mattarella.
Yesterday evening, the President congratulated the whole team before leaving for Rome. Today, meanwhile, he held an official speech that focused on cohesion, commitment, rising to challenges, optimism and responsibility – the main ingredients of the victory at Wembley.
In addition to the Azzurri and Berrettini, CONI President Giovanni Malagò, FIGC Head Gabriele Gravina and Italian Tennis Federation President Angelo Binaghi were also present. While Malagò talked about the pride of Italian football and sport – thanking President Mattarella for the "understanding he's always shown for our world" in the process – Gravina had the following to say: "This National Team is Italy and a beautiful thing, not only in terms of how the group plays, but also when it comes to values. I'd like to thank those who have contributed to bringing supporters closer to Italy again in the past three years. Thanks to the Azzurri, we're even more proud to be Italian."
The Head Coach of the rebirth, Roberto Mancini, was unable to hide his emotions: "We're all proud to be here. Thank you to the President for being our first fan, and I'd also like to thank the many UK-based Italians, who made us understand how strong the love for our National Team is. The whole country is celebrating again, there's huge satisfaction at having written one of the most beautiful pages of our football history. We've shown that when you believe in what you're doing, it's possible to achieve a seemingly unattainable dream. Our thoughts are also with Berrettini: we're sure that he'll return to a Wimbledon final and win."
"From myself and on behalf of the whole team, thank you for attending yesterday's game," said captain Giorgio Chiellini to President Mattarella. For us, it was a very important gesture, and we want to dedicate the triumph to you and the millions of Italian fans throughout the world, who have ensured that we've never felt alone. We'd also like to dedicate this victory to Davide Astori, who we would have liked to be here today and who remains in our thoughts and hearts, with this also applying to the younger players who have heard him being spoken about. We didn't win this European Championship because we scored one more penalty, but because of the bond that has tied us together throughout this adventure. We supported Matteo Berrettini, and we made sacrifices and helped each other. We felt like brothers of Italy, responding to the call of our country."
The meeting came to an end with a speech from Mattarella: "You didn't just try to win, you won by playing magnificent football. This didn't just allow you to have fun, but also all of those who watched you, and not just those in Italy. You displayed harmony as a team and in how you played, and Roberto Mancini deserves our thanks. He's shown faith ever since taking over the role, revolutionised the team's build-up play and been accurate in his preparations for every match." The President also mentioned Donnarumma, who picked up the Player of the Tournament prize, and the injured Spinazzola, who joined in the celebrations on crutches. It was then time to present gifts: while Berrettini gave the Head of State a racket, Gravina and Mancini handed over an Italy pennant and an Azzurri shirt with the number 10 on the back, one which was signed by all the players of Italy's European Championship-winning team.