National Team updates now available in Chinese and Arabic
The Azzurri continue to become more international: Arabic and Chinese social media accounts launched
Friday, June 18, 2021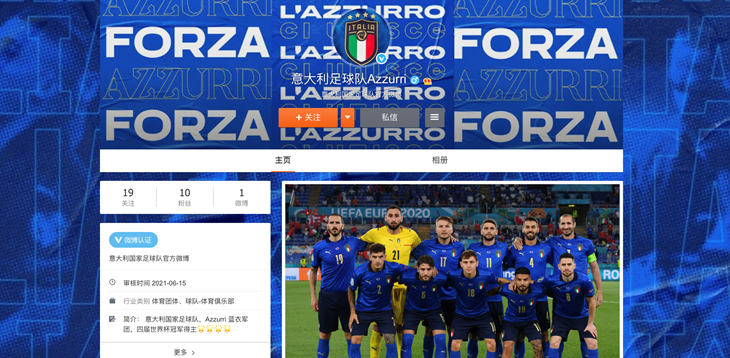 Until now, Italy fans have been able to follow their favourite players on Facebook, Twitter, YouTube and Instagram in Italian and English. Now, they can do so on Twitter, Facebook (through geo-targeting) and Instagram in Arabic and on Sina Weibo and WeChat in Chinese.
Arabic supporters, who have always shown a keen interest in our National Team and Italian football in general, can keep informed by heading to the following addresses:
Twitter: https://www.twitter.com/Azzurri_Ar
Facebook: https://www.facebook.com/NazionaleCalcio
Instagram: https://www.instagram.com/azzurri_ar 
For the many Chinese fans who love the National Team, the FIGC has decided to open accounts on the two most popular social media channels in the Asian country. Sina Weibo is a microblogging platform which features characteristics of both Facebook and Twitter and has around 340 million active monthly users.
Sina Weibo -> https://weibo.com/ItalyAzzurri
WeChat is an instant messaging app that allows individuals to chat with friends and organisations to send and receive information. The new Italy account will benefit from working in synergy with the one on Sina Weibo.
Furthermore, in order to give a big welcome to National Team fans who speak the two languages, the Azzurri players have recorded some fun messages in Chinese and Arabic. They will be published in the next few days by the relevant channels.