Youth Team competitions
Youth Team triumphs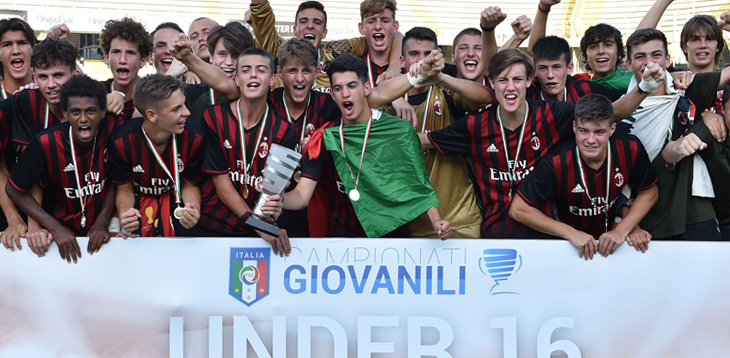 Italy's place at the peak of the top of world football is also thanks to the work of the National Youth Teams. The teams provide a talent pool and have achieved extraordinary achievements of their own.
The potential of the youth teams was on show in 2018 when for the first time in history, all of the sides involved in European qualifying made the final stages of their respective competitions. The Men's Under-19 and Under-17 National Teams made the finals, losing to Portugal in extra time and the Netherlands on penalties respectively.
In addition to five Under-21 European Championship wins, the Men's Under-19 National Team won the 2003 European Championship and the Women's Under-19 National Team won the 2008 European Championship.
Under-20 National Team. Their best finish was third at the 2017 FIFA World Cup in South Korea. The side coached by Alberico Evani beat Uruguay in the third-place playoff after going out in the semi-finals to eventual champions England.
Men and Women's Under-19 National Teams. As mentioned, both have won European Championships. The Men doing so in 2003 in Liechtenstein and the Women in 2008 in France. The Azzurrini were led by Paolo Berrettini and the side featured the likes of Giorgio Chiellini, Alberto Aquilani and Giampaolo Pazzini as they beat Portugal 2-0 in the final. The Azzurrine were coached y Corrado Corradini and beat Norway 1-0 in the 2008 final witth the team featuring the likes of current senior captain Sara Gama, Martina Rosucci, Alice Parisi, Elisa Bartoli and Laura Fusetti.
Regarding the Men's Under-19 National Team, the side also won two UEFA Under-18 tournaments in 1958 and 1966. In 2008, they also made the Under-19 European Championship final where they lost to Germany. In 2016, the side lost another final 0-4 to a France side featuring Kylian Mbappé. The side made the final again under Paolo Nicolato in 2018, coming back twice against Portugal before losing in extra time.
Men and Women's Under-17 National Teams. The Azzurrini have twice made finals in 2013 and 2018. The first time, they lost on penalties to Russia in Slovakia while in 2018 they went down to the Netherlands in England, again from the spot. Previously, Italy won two UEFA Under-16 European Championships in 1982 and 1987.
The Women's Under-17 National Team finished third in the 2014 European Championship in England and third against at the following World Cup in Costa Rica, beating Venezuela on penalties in the third-place playoff.