2002
Mistakes and controversial refereeing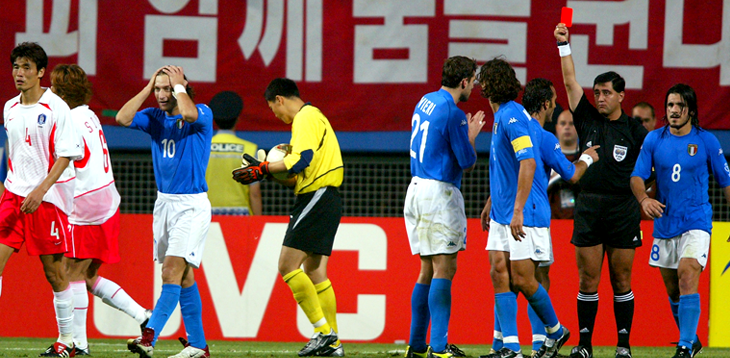 In 2001, Giovanni Trapattoni's Italy qualified for the World Cup finals in South Korea and Japan. The Azzurri made it to the finals without too many difficulties, a win over Hungary in Parma thanks to a Del Piero goal on 6 October saw the side top the group.
Italy's first appearance was on 3 June in Sapporo and it ended in a good 2-0 win over Ecuador with Christian Vieri scoring both goals while Totti also starred with his display. It seemed to be the start of something good but five days later in Ibaraki, Croatia won 2-1 with Vieri scoring the only goal as the Azzurri and officials made various mistakes.
In Oita, a hard-fought 1-1 draw against Mexico (Del Piero scored six minutes from time) sent Italy through to the round of 16 as the second team in the group after Ecuador beat Croatia. Italy's run would end then in controversial fashion against South Korea with Moreno refereeing. It finished 1-1 after 90 minutes with Vieri on the scoresheet before Ahn scored a golden goal four minutes from the end of extra-time to send Korea through.