1998
L'ennesima lotteria dei rigori: fuori con la Francia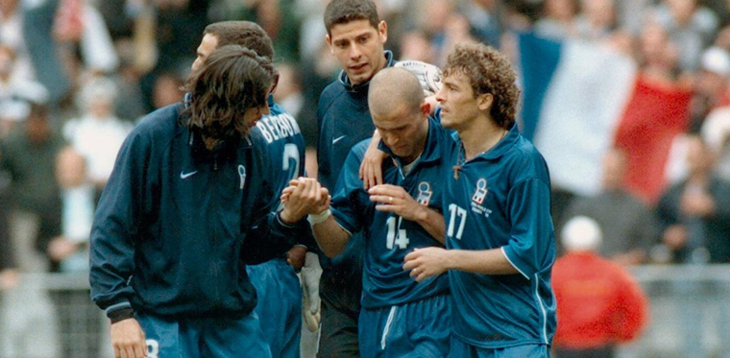 Four minutes after losing the final on penalties to Brazil, Italy turned up to the 1998 World Cup in France with fresh hopes. They were boosted further by a favourable draw which placed the Azzurri alongside Austria, Chile and Cameroon.
The first match was on 11 June in Bordeaux against Chile who had been the hosts in 1962 for a famously heated match against Italy. The Azzurri drew 2-2 with Vieri opening the scoring after ten minutes. A brace from Salas who had just been signed by Lazio then fired Chile ahead before Roberto Baggio equalised from the spot in the 85th minute. Things were different against Cameroon as Di Biagio scored one and Vieri two in the first win of the campaign.
Italy sealed qualification on Tuesday 23rd June against Austria (2-1_ thanks to more goals from Vieri and Baggio. Cesare Maldini was in charge of a tight-knit and effective group with Vieri the star up front. The team wasn't struggling for goals for they scored seven in the group stage. After beating Norway 1-0 in the round of 16 thanks to another Vieri goal, Italy had the hosts France to face next in the quarter-final. The match went to penalties after a goalless 120 minutes and the fate of Cesare Maldini's Azzurri would be decided. France won 4-3 on penalties as they went on to win the competition before also beating Italy at the final of EURO 2000 and the dejected Gigi Di Biagio after his penalty miss remains the most memorable image of Italy's tournament.