1994
Beaten on penalties again Brazil 3-2 Italy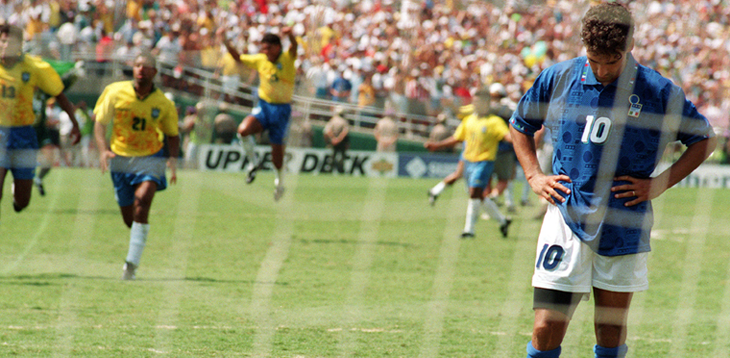 It was a World Cup of paradoxes, one which saw Italy not lose in the final but it was matched with the disappointment at going so close before losing on penalties. In 1994, Italy were one of the favourites under Arrigo Sacchi who had won everything while the team featured a lot of his Milan players. Baresi, Maldini, Tassotti, Costacurta, Donadoni and Massaro were in the team along with Serie A top scorer Beppe Signori and one of the most-talented and well-loved players on the planet: Roberto Baggio.
Italy started badly, losing the Republic of Ireland but improved as the tournament went on by sticking together to progress. In the last 16, the Azzurri went down to ten men against Nigeria and equalised in the 88th minute just as hope seemed lost before winning in stoppage time. Roberto Baggio scored both goals and he was the key figure in the quarter-final win over Spain and the semi-final against Brazil. The intimidating figures of Brazil were up next in the final as they looked to win the trophy for the fourth time.
The match was at 12:30 on Sunday 17 July at the Rose Bowl in Pasadena with 100,000 watching on under a beating sun. Sacchi had to deal with injuries and suspensions and did a great job to put our a competitive side. Franco Baresi recovered 24 years after having his meniscus removed and Baggio played through the pay. The Azzurri defence did a perfect job in resisting the Brazilian attacks as it finished 0-0 after 90 minutes and 120 minutes.  It would have to be decided from the spot after Italy went out four years earlier in a shootout in 1990. From the spot, Massaro, Baresi and the most iconic player of all, Baggio, missed. It finished 3-2 in the shootout and it was the first time penalties decided a World Cup final.