1990
Celebrations in Bari and a third-place finish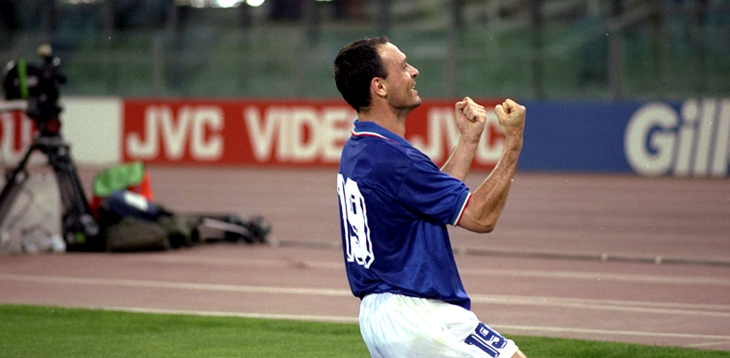 It was the World Cup of those 'magic nights', lighting up the stadiums of Italia 90. Azeglio Vicini's team had an unexpected talisman up front, Totò Schillaci. He started by scoring the only goal to beat Austria. Against the United States of America, Giannini scored the winner before Schillaci did it again against Czechoslovakia before a stunner from Roberto Baggio to send the Stadio Olimpico into delirium. In the last 16, Italy faced Uruguay and it was tough as was to be expected. The first goal came in the 65th minute through Schillaci again before Serena netted a second in the 83rd minute. 
The defence continued to remain unbeaten until the quarter-finals when a Schillaci goal knocked the Republic of Ireland out. The Azzurri moved away from the Stadio Olimpico, heading to Naples to face an Argentina side featuring Diego Maradona. Italy took the lead through that man Schillaci before Caniggia equalised after a mix-up between Zenga and Ferri. It remained 1-1 after extra-time and so it went to penalties where Argentina held their nerve better. Donadoni and Serena missed for the Azzurri.
In the third-place playoff, Bari was the venue and it gave a great reception to the side who went on to beat England to claim third before the two teams sporting celebrated together. After scoring another when Baggio allowed him to take a penalty four minutes from the end, Schillaci finished as the top scorer with six goals.