1938: second World Cup win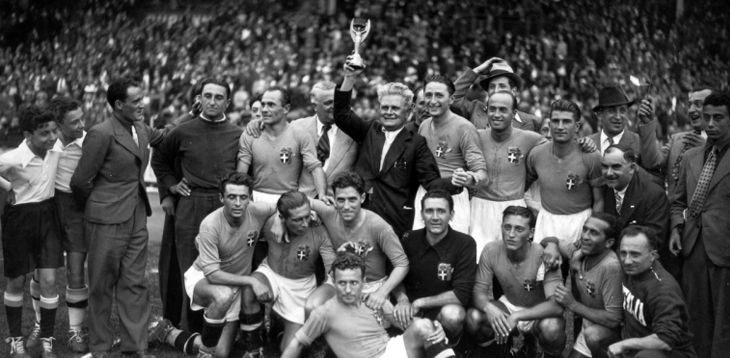 After the 1934 World Cup win and gold at the 1936 Olympics, Pozzo's Italy travelled to France in search of a fantastic treble. The team was stronger than the one four years earlier, it had belief in its own ability and was full of quality players. Nobody in the world could match the Colaussi-Piola-Meazza trident.
The Azzurri struggle in the opening fixture, beating Norway 2-1 after extra-time. In the quarters, Italy put on a show to teach hosts France a lesson, winning 3-1. In the semi-final, Colaussi and Meazza goals were enough to get past Brazil in Marseille. The spectacular final took place at the Paris Colombes stadium in front of 60,000 spectators who applauded the Azzurri's quick play as they beat Hungary 4-2 thanks to braces from Colaussi and Piola. The Hungarians sportingly recognised Italy's achievement, with the captain Sarosi shaking Meazza's hand and telling him in perfect Italian: "The best team certainly won."
It was a great time for Italian sport. Gino Bartali won the Tour de France and the French President Lebrun announced "They win everything, these blessed Italians," when presenting the Jules Rimet Trophy to Meazza who had lifted it four years earlier in Rome.