1934: first World Cup win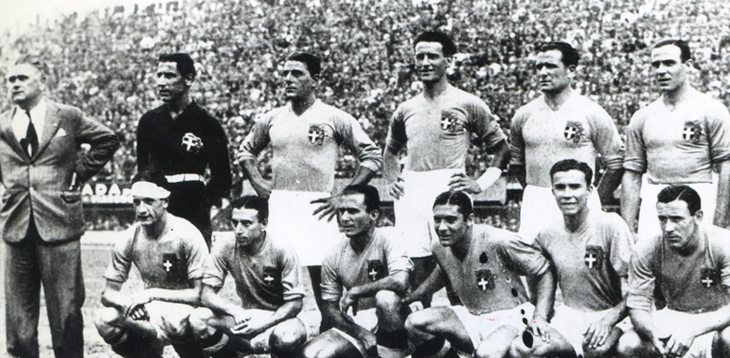 It was a year of firsts for Italian football. The country was taking part in a World Cup for the first time, hosting the competition for the first time and won it for the first time.
The Azzurri were led by the strange combination of Vittorio Pozzo who was technically a Pirelli employee and a General of the Fascist Militia, Giorgio Vaccaro. The two kept the squad isolated for a month and a half for an incredibly tough, military-style training camp as though the team was going to war rather than a football tournament.
Back then, the competition was a straight knockout competition and Italy kicked off by thrashing the United States of America 7-1. In the quarter-finals, the Azzurri faced a strong Spain side that featured the legendary goalkeeper Zamora. He kept the hosts at bay in the first meeting which finished 1-1 after extra-time before a Meazza goal was enough to win 1-0 in the replay. Italian audiences were kept informed and entertained by the radio journalist Nicolò Carosio before the days of TV.
In the semi-final, Guaita's goal was enough to knock Austria out. The final was held at the Stadio Nazionale del Partito Fascista in Rome in front of 50,000 fans. Czechoslovakia took the lead through Puc with under 20 minutes left. With time running down, Orsi equalised with under eight minutes left. In the fifth minute of extra-time, Schiavio scored the goal that delivered Italy a first World Cup title. Mussolini called the team to Palazzo Venezia when they were still in their kits before on the same evening, General Vaccaro presented the World Cup winners with bonuses of 20,000 Lire.