Beach Soccer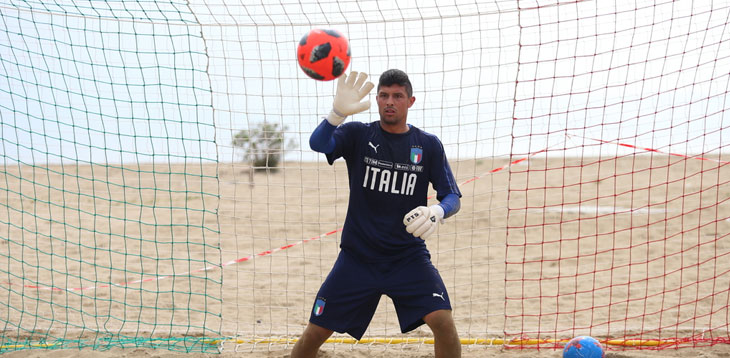 The Beach Soccer National Team has been a leading light in the sport for many years. The side was founded in 2004 by the Lega Nazionale Dilettanti before coming under the Club Italia umbrella. The side won the European Championship in 2005 and 2018 and finished as runners-up at the 2008 World Cup. They also finished third at the 2010 European Championship and three bronze medals in 2009, 2012 and 2017.
In 2004, the FIGC was the first football federation in the world to officially recognise the sport, paving the way for it to come under the FIFA remit and for it to be recognised by other federations. In a short time, the National Team established itself as one of the leading ones in the world while domestic competition enjoyed dynamism with Serie A supported by the LND. Since 2004, there have been six coaches: Pedro Pablo Pasculli in 2004, Massimo Agostini between 2005 and 2006, Fausto Silipo for a brief spell in 2006, Giancarlo Magrini between 2006 and 2010, Massimiliano Esposito between 2010 and 2015, Massimo Agostini again between 2015 and 2017. Current Coach Del Duca led Italy to a second European title in Alghero in September 2018.
Pedro Pablo Pasculli was in charge of the Beach Soccer National Team, first finishing fourth at the Rio De Janeiro World Cup. The side then came third in the Eurocup and fourth in the Euroleague. In the following season, player-coach Massimo Agostini's team won their first European title, beating Portugal on penalties after an incredible comeback. Prior, in the first World Cup organised by FIFA, Italy went out in the qualifiers. In 2007, following a spell under Fausto Silipo, Giancarlo Magrini came in and took the Azzurri through a four-year cycle in which they finished as runners-up at the 2008 World Cup in Marseille. Italy beat the hosts France in the quarter-finals, then the favourites Spain on penalties in the semi-final before only falling to the decorated Brazilians in the final (3-5).
After the 2011 World Cup on home soil in Marina di Ravenna which ended with a disappointing elimination against El Salvador in the quarter-finals, Massimiliano Esposito took over for the following season.
In 2015, Italy won the Mediterranean Games in Pescara, a few months after winning silver in Baku at the inaugural European Games.
Italy twice went out at the latest FIFA World Cups at the semi-final stage in Espinho (2015) and the Bahamas (2017). Italy went out to Tahiti in the semi-final in Portugal and Brazil in the Bahamas.
The latest piece of silverware came in September 2018 in Sardinia when Emiliano Del Duca's side became the European champions, beating Spain on penalties in Alghero.