The European competitions are back with the Italian teams winning three from three
A dominant Atalanta already have one foot in the Champions League quarter-finals. In the Europa League Inter won comfortably while Roma were cautious in their win
Friday, February 21, 2020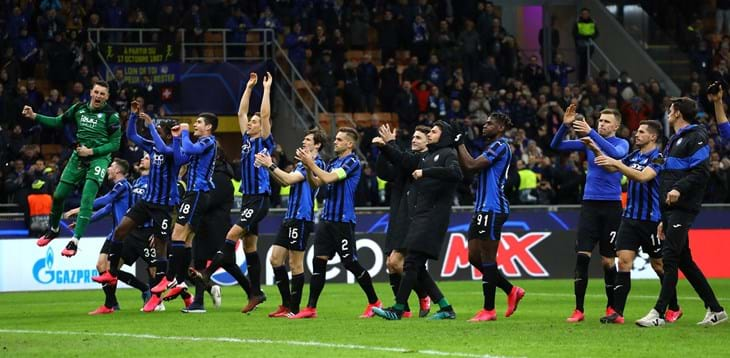 The Italian clubs have started very well in Europe in 2020 with Atalanta, Inter and Roma all winning to take one step closer to qualifying for the next round.
An exciting evening at San Siro saw Gasperini's team complete a resounding 4-1 to dent Valencia's hopes to add another chapter to this sport's beautiful archives. Atalanta, in fact, continue to be so impressive that, paradoxically, you can't be surprised by their intensity and ability. That fact, however, shouldn't obscure the performances of Gollini and Caldara who were decisive in limiting Celades' side's opportunities: the former was excellent with his feet playing precise balls upfield such as the one up to Maxi Gomez that started the first goal, the latter was thrown into the fray just before kick-off due to Djimsiti's injury in the warm up and played excellently with an authoritative performance that helped bring the Dea a step closer to the best eight in Europe.
Moving on to yesterday evening's Europa League matches with Inter's deserved victory at Ludogorets. In Bulgaria, Conte put out a side characterised by a low block with a defensive trio consisting of Ranocchia in the middle with Godín and D'Ambrosio either side: the two Italian defenders proved their reliability and also found great harmony in their actions. In the second half, goals from Eriksen (his first for Inter) and Lukaku (a penalty in added time) are a big step towards settling the tie and allowing Inter to think about the return leg at San Siro without much worry. Roma had more difficulty in their home game against the Belgians from Gent, with debutant Carles Perez scoring the only goal. However, the Giallorossi struggled and were repeatedly troubled by the gifted Belgian team full of individual quality. Cristante and Pellegrini didn't shine, nor did the rest of Fonseca's team. The tie is therefore still very much open ahead of next week's game in Belgium.